Hello UpTake Supporter –
Did you know that The UpTake regularly offers FREE community journalism trainings? Over the past nearly-three years, our community-wide trainings have largely been virtual, as a safety precaution. In Jan. 2023, we'll slowly re-introduce in-person trainings, even as we continue to offer virtual training opportunities.
The thing is, our trainings are not just one-off. We're constantly seeking out new community journalists-in-training through these trainings – and we're inviting training participants in to become paid community journalists, with mentorship and professional editorial support from our team. The trainings are the first step in becoming an UpTake journalist and they open up to what we hope is a much more significant experience and partnership.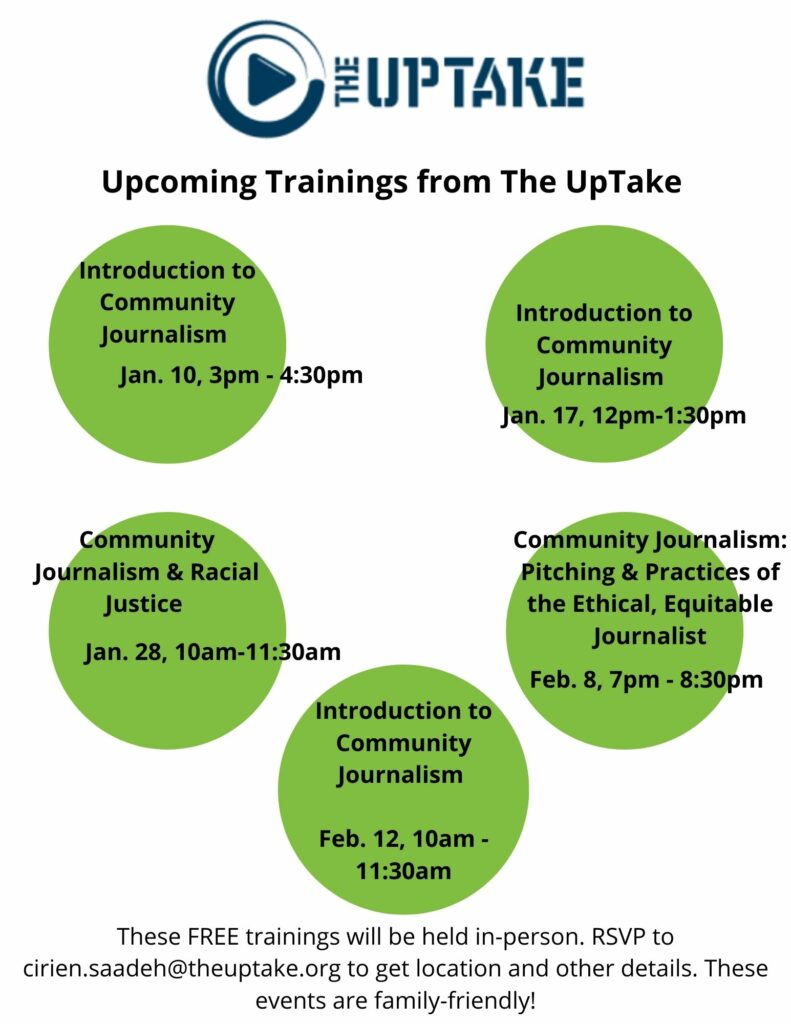 The UpTake has worked with over 100 community journalists-in-training over the last 15 years. 20 of the 25 community journalists-in-training currently freelancing for The UpTake came to us with no journalism experience whatsoever and we worked with them to create community-driven, professional-level journalism, using a curriculum laid out from "from pitch to promotion."
Our trainings are always open to all, they're always free, and they are always open to the entire family.
Each of our trainings costs about $500 to host, due to preparation, day-off, and post-training follow-up.
To RSVP for our upcoming trainings, just email cirien.saadeh@theuptake.org! We're announcing our Jan. – Feb. 2023 trainings today and we'll share more about our upcoming virtual trainings soon.
Thank you, Cirien Saadeh, Executive Director