"How Love Won" Documentary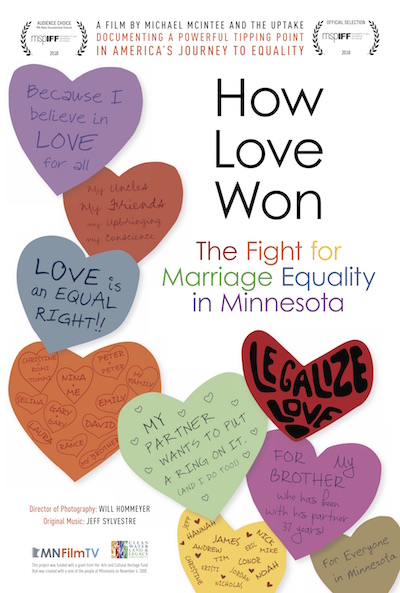 About this Project
How Love Won takes a look inside the "Vote No" campaign led by Minnesotans United for All Families. It traces the research that led to a groundbreaking campaign that worked to change minds by connecting voters to the emotional aspects of the issue. Through interviews with campaign workers, LGBT leaders, social science experts, and same-sex couples, How Love Won paints the portrait of a powerful campaign at a unique time in history. How Love Won was produced by Michael McIntee with support from The UpTake.
About this Partnership
The UpTake is an award-winning, independent, 501c3, Twin Cities-based community news organization and community journalism training center, founded in 2007. The UpTake's mission is simply that "community journalism should be used as a tool for building racial and social justice," and we do this by teaching our freelance staff how to be journalists. Our journalism centers transparency, accessibility, and racial justice. Dozens of individuals have been trained by The UpTake to become journalists. 
About Radical News
The UpTake is proud to support the Radical News Radio Hour which is aimed at telling the stories of social movements and community organizing across the Twin Cities and the country. The show is produced, written, and hosted by our Executive Director, Cirien Saadeh, and is aired on WFNU and KRSM. You can find the show on Spotify, Google Podcasts, Soundcloud, and most anywhere you get your podcasts.
About this Project
The Quilt is a space for digital storytelling and journalism on community policy, art and healing. This platform is curated and hosted by Voices for Racial Justice and The UpTake.
Strenthen Your Local Journalists