How protests and community organizing led to a 1.3 million dollar settlement and exposed a massive cover-up from the Saint Paul police department.
By: Katherine DeCelle
It was 2:20 am, January 14th, 2015, the middle of a snowy winter in St. Paul, Minnesota, when the Golden family's lives would be changed forever. 
24 year-old Marcus Golden was the kind of person his family and friends described as helpful, dedicated to his family and a leader of his friend group. Marcus was described by family and friends as sweet and appreciative and would do anything to help his family. The type of kid, who according to his aunt Monique Cullars Doty, took two busses in a blizzard to his grandparents' house to shovel the snow off their sidewalk. The type of young man that would put together furniture for his aunt and babysit his nephews.
"Marcus was so precious, very appreciative, very sweet. He was very helpful", Monique Cullars Doty said.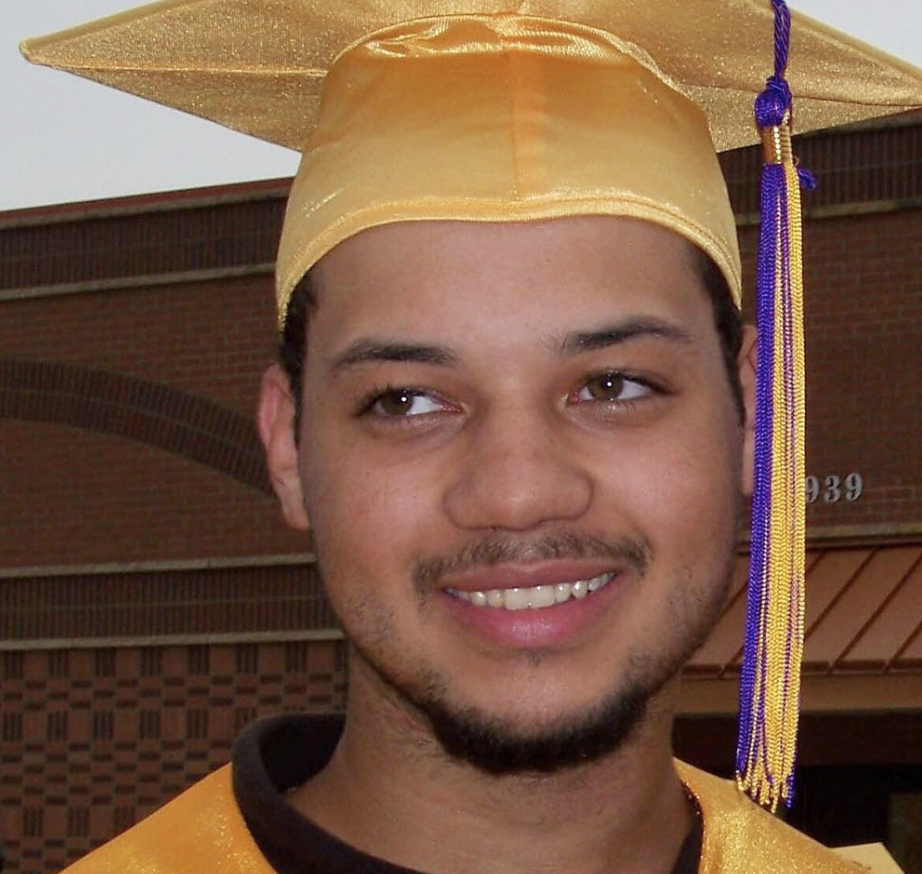 We will never know the type of man Marcus would grow into.
The death of a loved one can have a tremendous impact on their friends, community and family members, particularly when the loved one is murdered by police. When police are not held accountable and create a false narrative about the death, the impact on the family and community can be even more profound. The murder of George Floyd by Minneapolis police officers sparked protests throughout the world for justice and accountability.
Families who have lost loved ones to police violence struggle with feelings of anger, frustration, and helplessness, feeling that the system is rigged against them, and that their loved one's life was devalued simply because they were a person of color or belonged to a marginalized community or simply in the wrong place at the wrong time.
The murder of Marcus Golden by Saint Paul police officers happened 5 years before George Floyd's murder and 12 miles away. Marcus Golden is one of hundreds of people killed by police in Minnesota. According to the Star Tribune, 228 people were killed by Minnesota law enforcement from the years 2000 to 2023.
Trahern Crews, co-founder of Black Lives Matter Minnesota has said, "The community, after George Floyd was murdered, got upset. Derek Chauvin would never have got arrested if there wasn't a protest. People wouldn't have known the history of policing, the racial reckoning, the global impact, and that started here in Minnesota. Pretty much everybody who's been killed by the police, there would be no justice if there wasn't some type of protest to make the government do something about it. It starts with a protest, bringing awareness to it, and then demand transformational changes."
What happened to Marcus Golden the night of January 14th, 2015?
According to Cullars Doty, the night of January 14th, Marcus drove to an apartment building in downtown St. Paul to return some clothes to his ex-girlfriend. The two had been texting and exchanging messages over the past several weeks. Marcus' ex-girlfriend was staying with a man in the Valley Hi-Rise apartments on University Ave. in downtown St. Paul.
When Marcus pulled up the steep incline into the snow covered parking lot that night, he messaged his ex-girlfriend letting her know he was in the parking lot. The man who she was staying with called 911.
"The police said it was a domestic and the person who called said he didn't know Marcus. But they're saying it was a domestic, well, his ex-girlfriend didn't call. The person who called was the girl's ex-boyfriend. We thought Marcus was actually trying to return her clothes because she was leaving next morning, he had her stuff in the back of a car trying to return it to her", says Cullars Doty.
Here is where the stories start to differ.
According to Cullars Doty, in the original 911 call, the male caller said that he did not want Marcus outside his building and that Marcus was sending him threatening messages and possibly has a gun. The 911 operator asked the caller repeatedly if Marcus had a gun, where would it be, the caller did not know.
Cullars Doty has said that when an internal police investigation began on this case, the original 911 call was then edited by police to be only 46 seconds long and was described as a domestic incident with a gun. "They recorded a new nine zero one call. The audio is forty six seconds long from the caller, which that's not the original 911 call. So they made it only forty six seconds. Never thinking we're gonna investigate."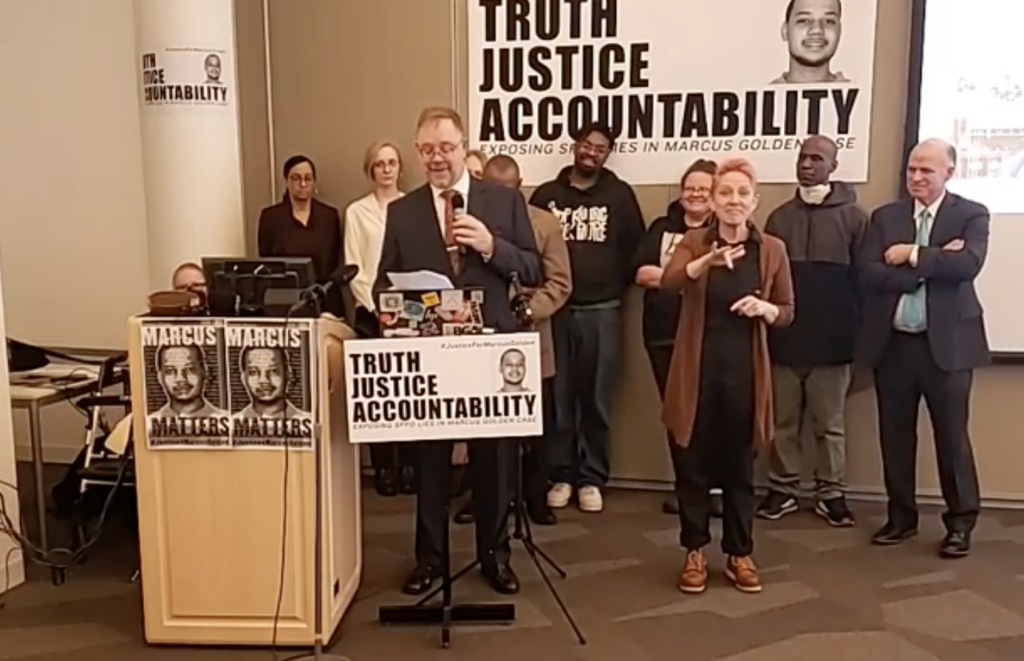 At a press conference for the Golden family, the Reinvestigation Workgroup's Emma Pederson reported that, "The police narrative is that a man called 911 to report that a guy had been texting him death threats from a texting app and that the guy had a gun and was driving in and out of the apartment parking lot of his apartment. What the evidence shows is that a man called in a harassment complaint on Marcus. That collar was safely locked inside of his apartment building. He was not in fear for his life. He told the dispatcher that he just wanted Marcus off his property. And we also know that the 911 caller did not see Marcus with a gun."
After the call went out, dispatch sent 2 squad cars to the scene, one to talk to the 911 caller and one to talk with Marcus.
According to both the official police report and the findings of the Reinvestigation Workgroup, officers Jeremy Doverspike and Dan Peck were the first officers on the scene and were not one of the two squad cars that were dispatched to the scene. Doverspike and Peck heard the dispatch and responded to the incident, without waiting for the other squads to arrive or communicating with dispatch that they were responding to the call.
The Reinvestigation Workgroup found that when Doverspike and Peck arrived on the scene, the 911 caller had not been investigated and no one had actually viewed the phone messages between Marcus and the 911 caller or his ex-girlfriend. The 911 caller and ex-girlfriend were safely inside the locked apartment building, where Marcus Golden did not pose a threat to. Marcus was in his SUV, parked in the back of the apartment's parking lot. Officers Doverspike and Peck did not have their light or sirens on. Squad car cameras are not activated unless their flashing lights are on.
According to the police, Doverspike and Peck arrived on the scene, spotted Marcus' SUV, exited their squad, called in the license plate, had a conversation with Marcus and ordered Marcus to get out of his car.. Officers say Marcus refused to exit his vehicle and then accelerated at Doverspike, making them "fear for their lives". Both officers opened fire, and the SUV crashed into parked cars in the lot before coming to a stop. The police narrative was that a loaded handgun was found in the car "within immediate reach" of Marcus.
The Reinvestigation Workgroup found that, "Marcus' driver's side window was actually rolled up. And there was not enough time for them to have an back and forth conversation with Marcus. We know that because eight seconds elapsed between the officers aired the license plate on Marcus' car and when they announced shots fired."
Monique Cullars Doty believes that because the squad had not activated their lights or sirens, that Marcus didn't even know the police had pulled into the parking lot. She says, "The two officers who showed up, Jeremy Doverspike and Dan Peck, did not radio in that they were responding to the call, and they were the first ones on the scene. By the time the other officers arrived to radio in that they were coming. Marcus had already been shot. They said it was a fleeing vehicle. Well, he wasn't even fleeing. He was free to leave. They showed up. They had no lights on. They didn't have their lights on. They didn't record anything."
It was 2:19 AM that morning, when officers Doverspike and Peck pulled into the parking lot of the apartment complex, just 46 seconds later Marcus Golden was shot to death.
A bullet hit the back of his arm and a fatal bullet entered the back of his skull and exited through his eye, according to both the police report and the Reinvestigation Workgroup.
Marcus Golden's case was the last case the Saint Paul police department investigated their own police shooting. The SPPD never ran any ballistics at the scene and according to the Reinvestigation Workgroup, when tested, there was no gunpowder on Marcus' hands.
According to Cullars Doty, that morning, officers arrived at Marcus Golden's grandparents' home, where he previously lived, with a warrant to search their home, where officers informed the Golden family that Marcus had been killed but they were still waiting on information as to what happened. Saint Paul police then detained Marcus' Marcus' grandmother and tried to put Marcus' mom on a 72 hour psychiatric hold. Golden's mom, Ericka Cullars-Golden, had been a St. Paul reserve police officer for 22 years.
Emma Pederson of the Reinvestigation Workgroup said a press conference, "Marcus' mother had police officers come to the bank where she worked, tell her that her son was dead, and because she was distraught, deliver her to a psych ward. Marcus' grandparents had two officers arrive at their home, tell them that Marcus was dead, but refused to tell them how until officers arrived with a search warrant to search their home. They weren't there to search for evidence of what Doverspike and Peck did, but for something of Marcus' to justify their crime. Later that day, Paul Paulis, of the St. Paul Police Department held a press conference saying that Marcus had a gun that Marcus drove his truck directly at the officers, slandering Marcus' memory."
Cullars Doty says that police knew that Marcus was a legal gun owner and had information that Marcus kept his gun at his grandparents' home. She says that police came to Marcus' grandparents home in order to find his gun and plant it in his car, after his death.
Marcus' brother had recently committed suicide. Cullars Doty says that officers at the grandparents' home searched the house and staged Marcus' old bedroom to make it look like Marcus was intending to commit suicide, by placing photos and a t-shirt of Marcus' late brother in plain sight, and shared this photo with the media. Shortly after, around noon that day, a gun was recovered from Marcus' SUV, on top of broken glass, with no blood splatter or body materials on it.
After Marcus was killed, police put out the narrative to mainstream media that Marcus was suicidal, had a loaded gun with him and was trying to die by "suicide by cop" a term used by officers for incidents in which an individual, bent on killing himself, forces the police to use deadly force. News articles began circulating throughout Minnesota. MPR news reported:
Man killed by St. Paul police had threatened to commit suicide.
After Saint Paul police investigated their own Saint Paul police officers, a grand jury failed to indict officers Doverspike and Peck.
How the Golden family began their 8 year battle for police transparency, accountability and justice for Marcus Golden.
In 2015, the Black Lives Matter movement was just starting. Shortly after Marcus' death, Black Lives Matter Minneapolis members and Communities United Against Police Brutality members contacted the Golden family, including Marcus' aunt, Monique Cullars-Doty. Cullars-Doty was asked to participate in a march and candlelight vigil for in honor of Marcus.
From there, Cullars Doty began to participate in other marches and events in solidarity with other families who have lost loved ones to police violence. This is where Monique Cullars Doty went from being a participant to becoming a community organizer. The first official event she helped organize was the Black Fair at the MN State Fair, in August of 2015. Cullars Doty, along with Trahern Crews, co-organizer of Black Lives Matter MN and others organized a protest at the fair to bring attention to Marcus's case.
Trahern Crews said that because Marcus' mother was always a volunteer police officer at the MN State Fair, they wanted to target the fair to bring awareness to Marcus' case and to address the lack of equity at the fair for vendors. 2,000 people came in support of the protest at the fair, including the groups, Black Lives Matter Minneapolis, Native Lives Matter and Hmongs for Black Lives. This event began trending on twitter, getting even more attention to Marcus' case. From there, Crews and Cullars Doty along with others began having Martin Luther King Day rallies in honor of Marcus Golden and stolen lives.
As her community organizing work was growing over the years, Cullars Doty began to meet more people in the movement, including lawyer Paul Bosman. At a fundraiser she was MCing for Communities United Against Police Brutality, Cullars Doty mentioned to some attendees the problem she was having about the cost of hiring a lawyer and ballistics expert to help her with Marcus' case. Paul Bosman was at this fundraiser, heard Cullars-Doty, and volunteered to help Cullars-Doty with the case.
Cullars Doty has said that wrongful death lawsuits generally have to be filed within 3 years in the state of MN, and by this time the statute of limitations for a state's wrongful death claim was up on Marcus' case, but lawyer Paul Bosman found a way around that.
Bosman used the law's "murder exception," which says a wrongful death claim can be filed later if it was "caused by an intentional act constituting murder."
"There's an exception in the statute that I only find that had been used three times for a death caused by an intentional act constituting murder. Never been done in forty years that the thing had been law. Lots of lawyers said it wouldn't work Fortunately, the judge in this case disagreed with those lawyers and allowed us to include wrongful death in the complaint, but warned we were going to have to prove murder in civil court. And I saw that as a challenge because we'd finally get to try police officers for murder." Said Paul Bosman at a press conference.
6 years after Marcus' death, the family filed a wrongful death lawsuit against the city of Saint Paul. The president of Communities United Against Police Brutality, Michelle Gross, and the CUAPB Reinvestigation Workgroup, a group of volunteers dedicated to finding the truth about Marcus' case, began to gather evidence for the civil case.
For 2 years, the CUAPB Reinvestigation Workgroup dedicated their time and energy to working with the Golden family on this case. They hired ballistics experts, interviewed witnesses, reviewed crime scene evidence, studied the 597 page police report, and what they found was a massive cover-up by the Saint Paul police department.
The 87-page report from the CUAPB Reinvestigation Workgroup, determined that the gun was planted in Marcus' vehicle, the morning after Marcus' death.
By reviewing the fresh tire tracks and footprints in the snow from that night, the Workgroup determined that Marcus drove around the officers, trying to leave the parking lot and not at them, as was stated in the police report.
They found evidence that the 911 call was edited and shortened.
The team found that Marcus Golden died due to:
"• A failure of the SPPD to provide proper training to police officers to utilize the lights and cameras on the squad car during any investigations.
• A failure of SPPD to provide proper training to police officers to investigate a harassment
complaint.
• A failure of Officers Jeremy Doverspike and Dan Peck to use their training and SPPD policy to guide
their response in order to de-escalate and properly investigate the situation.
• A failure of SPPD and all investigators for releasing inaccurate information to the media, therefore
compromising the integrity of the investigation and of accountability to the Saint Paul community.
• A failure of Officers Doverspike and Peck to exercise judgment in depriving Marcus Golden of
his life."
This dedication of the CUAPB Workgroup and their evidence resulted in a huge win for justice and the Golden family.
8 years after the killing of Marcus Golden, on Jan. 18, 2023, Saint Paul city council members approved a $1.3 million settlement awarded to Golden's family.
In addition to monetary damages, the city has agreed to let the family build a memorial bench and plaque in Como Park that will honor his legacy. They will also recruit one of Golden's family members to join the St. Paul Neighborhood Safety Community Council.
Marcus's mother and grandmother also received monetary awards for their unlawful detainment.
Trahern Crews, co-founder of Black Lives Matter MN wants people to know that protests work.
"I know it's hard for people when they lose a loved one even if it's not from violence. It's hard to get out of bed sometimes and continue. Seeing the strength that Monique exhibited every day for the last seven to eight years, fight for justice for her nephew was amazing to see firsthand. And then to see her actually win, get justice for him, that was just something amazing to watch. I just wanna say that protests work. And Minnesota has proven that it works."
By keeping Marcus' name and story in front of the public, the Golden family was able to get more attention to the case, which led to their win for justice for Marcus Golden. Crews says that he's in still in shock over the win. He's hopeful that results of this case will change how the Saint Paul police operate.
Monique Cullars Doty continues to be a community organizer and activist, fighting for justice for stolen lives. Cullars Doty is less hopeful that the Saint Paul police behavior will change because of this case, noting that she doesn't think anything will change until police are held accountable for their actions. She is hopeful though, that other families who have lost loved ones to police violence will benefit from the murder exception that Paul Bosman used to get justice for their loved ones.
She says, "We need these officers prosecuted. We need a Department of Justice investigation of pattern and practices of the Saint Paul Police Department. It needs to have a deep dive into every homicide that they've committed because they perform their own investigations. They had the resources of the commercial media at their disposal to just demonize Marcus. I don't think they'll be change until they're held accountable. The discipline for those officers is not working. It's a misdemeanor for an officer to change evidence. It's just a misdemeanor. It should be a felony with minimum time. There's no reason for someone to be able to plant a gun and just go off into the sunset. There's no reason why they can rerecord a 911 call. They didn't do that on their own. There needs to be accountability. If there's anyone out here listening whose loved one was killed by the police and they missed that three year statute limitations, If you use that murder exception, you can still get that lawsuit filed."
Officers Jeremy Doverspike and Dan Peck have not been criminally charged for the murder of Marcus Golden and are still working as Saint Paul police officers.